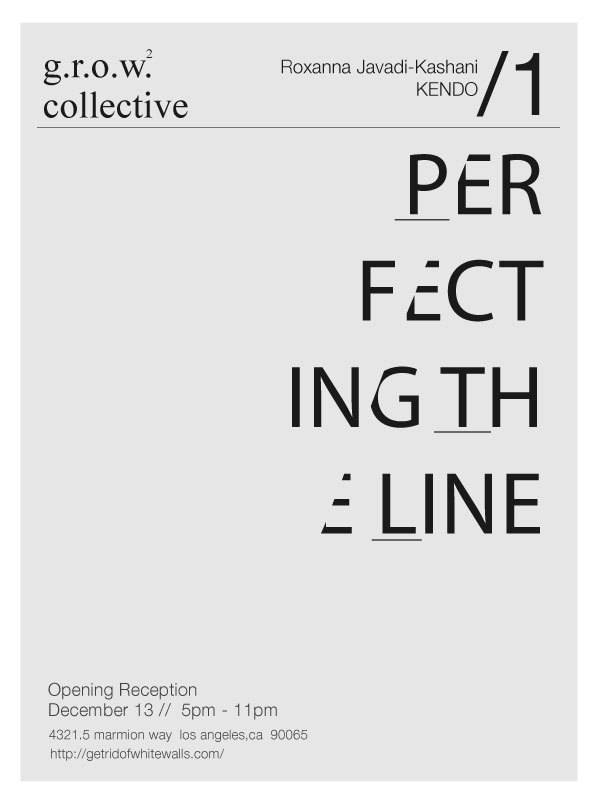 EVERYONE!!!! This is my art collective's first show!!
Please join us for the opening reception for
This Saturday December 13th @ Site 01 4321 1/2 Marmion Way La, CA 90065 from 5pm -11pm


An exhibition in a peculiar space, a garage, featuring work by two Los Angeles Artists
::
Roxana Javadi-Kashani
and
Kendo
This mark making device is in constant flux, reinvented with each new stroke. A line is a definition of a path. As soon as it is made it is a remnant but can always be changed. This definite indefinite finds itself as the ghost of an action, the trail of some moving body. How is this construct of ink making its way out of artist hands to its own evolution?
ROXANA

JAVADI-KASHANI
San Gabriel Valley native. Born 1980. Draws and paints no specific genre, but tends to focus on people as main subjects.Uses mostly oils, acrylics and spray paint...and is fond of crayons. UCLA graduate. Likes to dance, travel, and play the uke. Recently accepted into prestigious SGV Cartoonista collective.
www.cartoonistas.blogspot.com
, and finished illustrating "Smoke and Mirrors" a poetry book by Rick Stepp-Bolling. In this show, she exhibits her Brown Line paintings.
KENDO\
Born 1983 and raised in Southern California. I am of Asian descent. Many people think I look Japanese. But I'm not. I'm trying to establish myself as an artist but please, throw the romantic notion of being an artist out because I just like to draw. I am a drawer among a few other things. Anyways, art, music, communication and food is pretty much my life. It sounds absolute doesn't it? But it's not. Ahem, it's my excuse to be "creative". Don't tell anyone. For the most part, I enjoy how everything plays well together. I will strive to make everyday fun.
Presented and Curated by::
Get Rid Of White Walls Collective (g.r.o.w.w.)
We are a group of five women with a shared vision of engaging public sites within the city that could be used in ways never-before imagined. We are architects, filmmakers, photographers, painters, performers, and media landscapers—each with a specific eye, all in collaboration—pushing for progress and change.
www.getridofwhitewalls.com
getridofwhitewalls@gmail.com
Check us out on
myspace
/
facebook